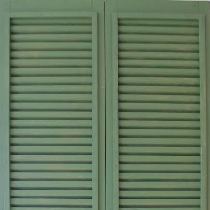 Tano Festa was born in Rome in 1938. He is one of the greatest exponents of Italian and European pop art. In 1952 he enrolled at the Art Institute in Rome and graduated in 1957. After an informal beginning, in 1960 Festa abandoned gestures and produced his first monochrome paintings.
He favoured the colour red furrowed by strips of paper soaked in the same colour, which vertically mark the surface of the painting. Tano Festa's red is reminiscent of an organic material such as blood, but also of the light used in the darkroom during the photographic impression phase.
In 1961 Festa began to mark out the surface of his paintings no longer with paper, but with wooden strips arranged vertically at irregular intervals.
These were the new works that the artist presented at his first solo exhibition in 1961 at the La Salita gallery. The wood, replacing the paper, contributes to give a more objective aspect to the painting and the use of industrial paints definitively distances any emotional participation by the author.
In 1964, he participated in the Venice Biennale. After several trips to Europe and America, in 1965 he was invited to the IX Quadriennale d'Arte in Rome; he exhibited again at the X Quadriennale in 1972 and at the Xl Quadriennale in 1986. At the beginning of the 1970s the artist experimented with a new technique, more entrusted to the pictorial matter, to the gesture, to the colour.
The figures are images taken from the art of the past projected onto the canvas, but re-proposed in a more fragmentary way than in the 1960s. In 1978 he was invited to the Venice Biennale, where he exhibited again in 1980 and 1984. He died in 1988. His works are in public and private collections all over the world.