AURO & CELSO ceccobelli
"The twins Auro and Celso Ceccobelli have been working for years on the recycling of locomotion technology (skateboards, motorcycles and mechanical parts) or audio (sound sculptures with built-in amplification). Their poetic universe is post-technological, but it always starts from this area, albeit from the darker side of the waste and conveying everything in the context of a manual recovery. In some of their more recent works, parts of automobiles, such as windows and windshields (primary and rudimentary vision screens), are the means and message of the very visibility of sculpture-painting. Seeing is placed in the open and becomes an object of vision. Seeing through, therefore, is at both the iconic and expressive level."
Marco Tonelli 2020
The twins Auro and Celso Ceccobelli (Rome 12 May 1986) operate in the field of contemporary art by creating performative sculptures, art videos and Raku ceramics. They are sons of the artist Bruno Ceccobelli, grandchildren of the informal sculptor Toni Fabris (1915-1989) and great-grandchildren of the porcelain maker Luigi Fabris (1883-1952).
Auro and Celso live in Todi, they work together and are active in the art area since 2001, experimenting several sculptural techniques with various materials and, at the same time, video art, presenting the collection "doCumentArti", that produces a poetic documentation which pays homage to the represented artist. It is a set of about 140 videos which are not designed as real documentaries nor as videos of art; they are something in between that respects the artists' poetic, expressing at the same time the authors' interpretation without betraying the spirit of the artist, but celebrating it exalting its peculiarities.
Since 2016 Auro and Celso Ceccobelli made performative "post-apocalypctic" sculptures realized with scrap objects of our consumerist society, with inserts of plant structures and with the sounds of nature produced by liquid music; contemporary archeology, poetically transformed, so that they become bachelors machinery in balance between advanced Technology (typical of the capitalist world), Humanity and Nature.
"Our new works are called Pneumagrafìe: colored strokes created utilising motor vehicles' tires, used as brushes. Our intent is to express, in an artistic way, Man's relationship between Mechatronics and Nature and to underline the urgency to find some points of balance among them!"
Auro e Celso Ceccobelli.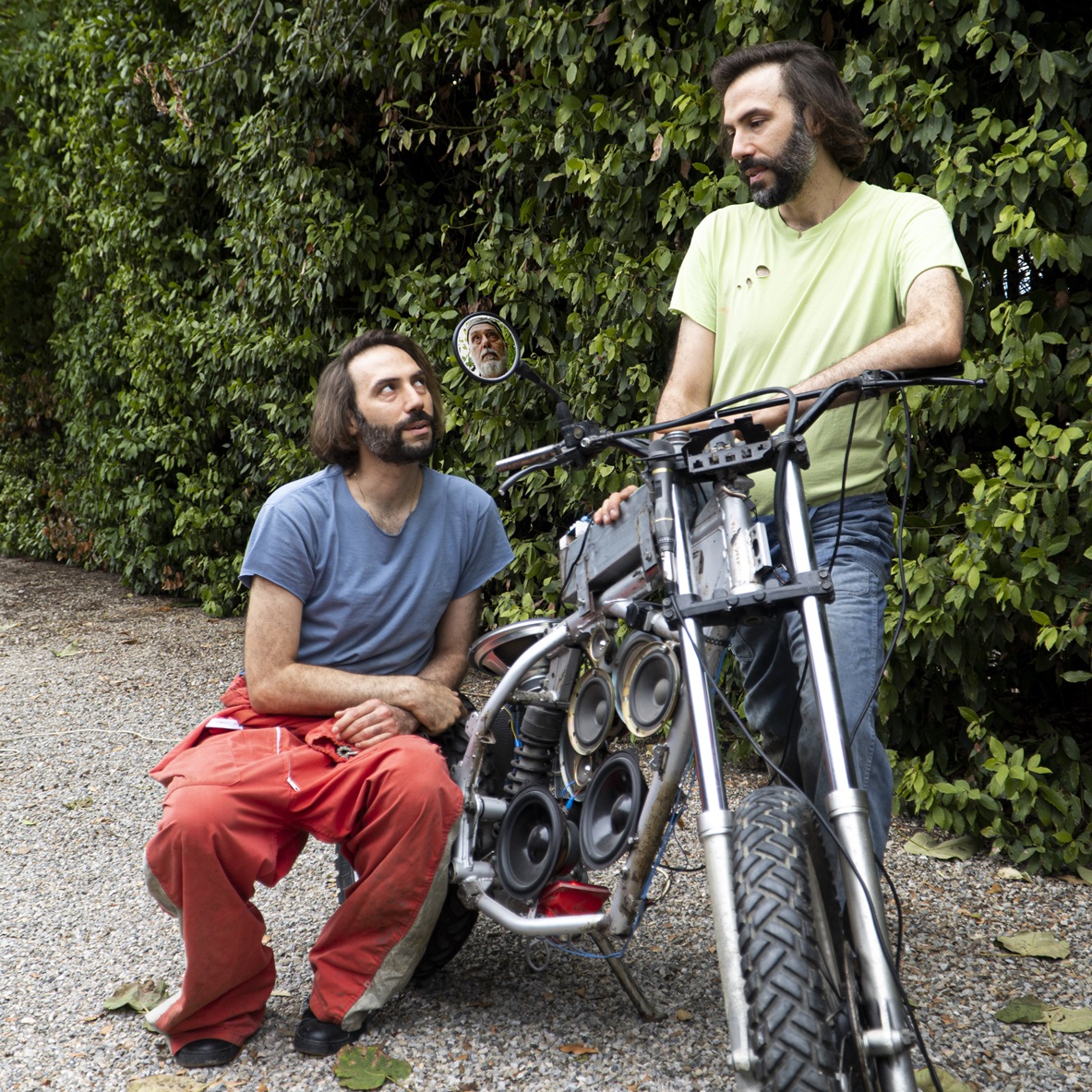 Photo Credits: Pietro Dessì ph.
&Art Gallery, Vicenza (2021);
Tributo a Beverly Pepper, Todi (2020); 
Fondazione Aldega, Amelia (2019); 
Festival di Todi (2018);
 CIAC Store – Bookshop Museo CIAC, Foligno (2016);
Museo Nazionale Ravenna (2016);
Fondazione Pastificio Cerere, Roma (2015);
Galleria per Mari e Monti, Civitanova Marche (2014);
Museo Bilotti, Aranciera di Villa Borghese, Roma (2014);
Galleria Studio d'Arte Fedele, Monopoli (2010);
Fondazione VOLUME!, Roma (2010/2009)
Biennale d'Architettura, Venezia (2021),  Museo Camusac, Cassino (2020);
Tian Tai, Tsintao – Cina (2020); Accademia Nazionale di San Luca – #DaiUnSegno, Roma (2020); 
Linee d'Umbria, Rocca di Umbertide (2020); 
Asmalimescit Art Gallery Beyoglu, Istanbul (2019); 
Spazio Thetis, Venezia (2019); 
Archivio Centrale dello Stato, Roma (2018);
Palazzo Collacchioni, Capalbio (2017);
Scriptorium Abbazia di San Galgano, Siena (2017);
Galleria Seno, Milano (2016);
Museo d'Arte Moderna e Contemporanea, Saint Etienne Metropole – Francia (2015-2016);
Fondazione VOLUME!, Roma (2013);
Galleria Bibo's Place, Todi (2013);
Galleria Limen 895, Roma (2010)