bruno ceccobelli
… "Ceccobelli's art is caught on the horns of the gnostic dilemma, reflecting the conflict that always informs the search for salvation and health through art, and the uncertainty as to whether the conflict will be resolved – whether good will triumph over evil, whether the self will find God or remain the captive of its demonic side.
Thus, his art may ultimately be a form of religious healing, but at first glance it seems a demiurgic mastery of the material world." …
Dunald Kuspit
1993
Bruno Ceccobelli was born in Montecastello di Vibio (Perugia) Italy, on the 2nd of September 1952. He lives and works in Todi.
He feels deep gratitude for his teacher Toti Scialoja, informal abstract artist, with whom he graduates in scenic design at the "Accademy of fine arts" in Rome.
Ceccobelli loves and studies artists such as Malevich, Kandinskij, Klee, De Chirico, Brancusi, Beuys, Mirò, Dalì, Tapies, Magritte, and he completes his eclectic juvenile studies by learning about eastern philosophies.
From the mid seventies on, he is one of the young artists who occupies and restores the old pasta factory "Cerere", in the San Lorenzo neighborhood in Rome, a group of creative artists later well-known under the term "Nuova Scuola Romana" or "Scuola di San. Lorenzo" or "Officina San. Lorenzo". His research starts out as performative-conceptual, reaching further on pictorial abstractions leading to a genuine spiritual symbolism.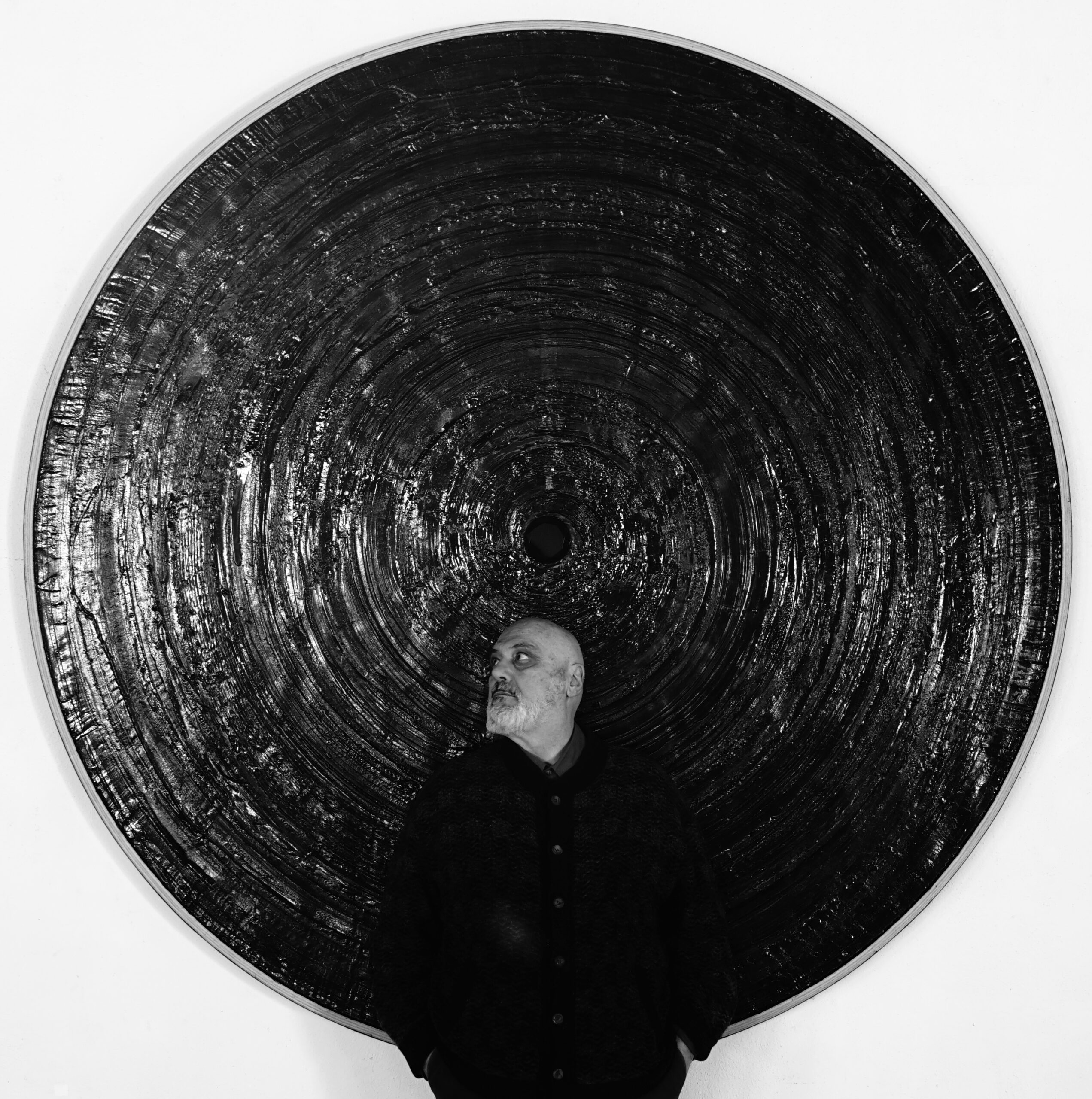 Photo Credits: Auro & Celso Ceccobelli
Selected solo and group exhibition
In 1972 he is part of S.p.A. an artists' roman group, which will exhibit at the "Fiera di Roma – Inco/Art74" in 1974.
In 1973 he takes part in his first group exhibition in Austria at the Europäisches Forum of Alpbach.
1977 he has his first solo-exhibition at the "Spazio alternativo" Gallery in Roma. He participates also in two solo-exhibitions at "La Stanza".
 
1979 Festival of Italian Culture, Belgrade (coll.).
1980 Biennale des Jeunes, Paris (coll.).
1981 Ferranti Gallery, Roma;
Yvon Lambert Gallery, Paris.
1982 Swart Gallery, Amsterdam.
1983 Salvatore Ala Gallery, New York.
1984 "Ateliers", Roma;
"Aperto '84", Biennale di Venezia (coll.).
1985 Sperone Westwater Gallery, New York.
1986 "Arte e alchimia", Biennale di Venezia (coll.);
Akira Ikeda Gallery, Nagoya, Japan.
1987 "Letto nel buio", Studio Marconi, Milano;
Marianne Deson Gallery, Chicago.
1988 Jack Shainman Gallery, New York;
Caffè Florian, Venezia.
1989 Mayor Rowan Gallery, London;
Thomas Carstens Gallery, Barcelona.
1993 Museum Centre Saydie, Bronfman, Montreal.
1994 Italian Embassy Dakar, Senegal.
1996 Quadriennale di Roma (coll.).
1999 Guastalla Centro Arte, Livorno;
Luis Borgus Gallery, Bilbao.
2002 B.M.B Gallery, Amsterdam.
2003 "Classico Eclettico" Archeology Museum, Villa Adriana, Tivoli.
2004 "L'eternità è la vera medicina", Gibellina, Sicilia.
2006 "San Lorenzo", Villa Medici, Roma (coll.).
2007 "Longa marcia post-temporale", VOLUME! Foundation, Roma.
2008 "Invasi", Pastificio Cerere Foundation, Roma.
2009 "Attici unici", l'Attico Gallery, Roma;
"Natalis in Urbe" Santa Maria sopra Minerva Church, Roma;
"Officina San Lorenzo", Mart, Rovereto (coll.).
2010 "San Lorenzo la soglia dell'arte", Limen895, Roma (coll.).
2011 "Schöne Träume", Rovereto.
2012 "Eroi d'Eros", Catania, itinerant at the Museum of Modern Arte, Buenos Aires in 2013.
2013 "209 – Icona from NYC", Sorrenti Gallery, Novara;
"Anni 70 – Arte a Roma", Palaexpo, Roma (coll.).
2014 "Terra Cotta", La Rinascente, Padova;
"Port'Ostensorio", Susanna Orlando Gallery, Pietrasanta.
2015 "Capovolgere", Pastificio Cerere Fondation, Roma;
"Icons", St.Pietroburgo Accademy, Russia.
2016 "Ceccobelli e le icone della Collezione Classense", Nazionale Museo, Ravenna and Basilic  Sant'Apollinare in Classe, Ravenna;
"Con sorti Belli", Augusto Consorti Gallery, Roma.
2017 "Autoritratti da dentro", Podestarile Palace, Montelupo Fiorentino;
"Undisclosed stories", Collacchioni Palace, Capalbio (coll.).
2018 – Challenging Beauty Insights in italian contemporary art, Parkview Museum, Singapore (coll.).