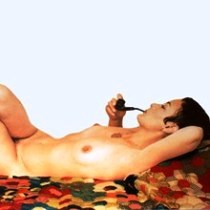 Michelangelo Pistoletto was born in Biella in 1933. In 1960 he held his first solo exhibition at the Galatea Gallery in Turin. In the same year he made several life-size self-portraits on monochrome backgrounds in gold, silver and copper. In 1961 he created a series of works in which he painted his own figure on a black background made reflective by a layer of transparent paint.
In 1962 he developed the technique photographic transfer on tissue paper applied to mirror-polished stainless steel, with which he created his mirror paintings, which directly included the presence of the viewer and the real dimension of time in the work.
Pistoletto's mirror paintings, exhibited for the first time in 1963 at the Galatea Gallery, soon achieved international recognition and success, leading him to participate in the most important art events dedicated to Pop Art and Nouveau Realisme. As early as the 1960s he held solo exhibitions at prestigious galleries and museums in Europe and the United States (in 1964 at the Sonnabend Gallery in Paris, in 1966 at the Walker Art Center in Minneapolis, in 1967 at the Palais des Beaux Arts in Brussels). Pistoletto's works are considered fundamental to the birth of Arte Povera, an art movement theorised by Germano Celant in 1967.
In 1968 he was invited to the Venice Biennale. After decades of exhibitions in Italy and abroad, in 1991 he became professor of sculpture at the Vienna Academy of Fine Arts, a post he held until 2000. In 2003 he was awarded the Golden Lion for Lifetime Achievement at the Venice Biennale.
In 2013 his solo exhibition was held at the Louvre Museum in Paris. His works are present in the collections of major museums of modern and contemporary art, such as MOMA, New York; Guggenheim Museum, New York; Beaubourg, Paris and many others.