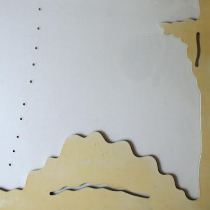 Lucio Fontana is one of the greatest artists of the 20th century, the undisputed king of Spatialism. He was born in 1899 in Rosario di Santa Fé, Argentina, to Italian emigrants. In 1927 he was in Italy and enrolled at the Brera Academy of Fine Arts, where he graduated in 1929.
The artist began to enjoy his first successes in 1930: he took part in the 17th Venice Biennale and had his first solo exhibition at the Galleria del Milione in Milan. In 1947 he signed the Manifesto of Spatialism together with Giorgio Kaisserlian, Beniamino Joppolo and Milena Milani. Before returning to Italy, he exhibited in 1949 at the MoMA in New York in a group show of 20th-century Italian art.
On his return to Italy, Fontana exhibited his first spatial environments in neon at the Milan Triennale in 1951 and began to develop the research for which he is now universally known: his first Buchi (Holes) date from the 1950s.
The Tagli (Cuts) date back to 1958 and were presented for the first time at the Galleria del Naviglio in Milan in 1959, then taken to Paris, to the prestigious Documenta in Kassel and again to the 5th São Paulo Biennial.
Some important cycles date back to the 1960s, such as the Olii (Oils), i Metalli (Metals), le Fine di Dio (End of God) of 1963-1964 and the Teatrini (Theatres) of 1964-1966. 1966 was a year of important international success: he had solo exhibitions at the Walker Art Center in Minneapolis, the Marlborough Gallery in New York and the Galerie Alexander Iolas in Paris.
Particularly noteworthy in Italy is the room dedicated to him at the 33rd edition of the Venice Biennale, where he collaborated with Carlo Scarpa, creating a labyrinthine oval space, illuminated by a white light and traversed by white canvases with a single cut.
He died in 1968. His works are in all the museums of the world and fetch millions of dollars at auctions.