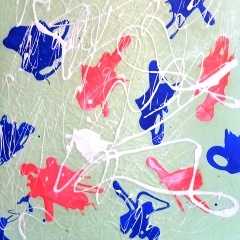 Giulio Turcato He was born in Mantova in 1912. He's one of the most fascinating abstract artists not only in Italy but in the world.
He moved to Venice in 1925 where he attended the art school. In 1945, together with Prampolini, Fazzini, Jarema, Savelli, Mafai, Corpora, Consagra and Perilli, he formed the Art Club association.
He then signed the manifesto of the Nuova Secessione Artistica Italiana and travelled to Paris with Carla Accardi, Consagra and Sanfilippo with whom, together with Attardi, Dorazio, Guerrini and Perilli, he formed the Forma 1 group.
In 1947 he exhibited at Galleria La Spiga in Milan with the Nuova Secessione, which then changed its name to Fronte Nuovo delle Arti. Turcato joined the Gruppo degli Otto (Group of Eight), which theorised informal abstractionism.
He took part in the Venice Biennale in 1952, 1956, 1958, 1966, 1968, 1972 and in the 1984 Biennale he staged the performance "Moduli in viola/Omaggio a Kandinsky".
His most important series of works include the Archipelagos, Lunar Landscapes, Foam Rubber Itineraries and Changeling.
He has had solo and group exhibitions all over the world, such as Documenta in Kassel and the São Paulo Biennale.
He is present in major museums, including the MoMa in New York, the Pac in Milan, the Staatsgalerie Moderner Kunst in Munich, the Musée de l'Athenée in Geneva, the Philadelphia Museum of Art and many others. He died in 1995.