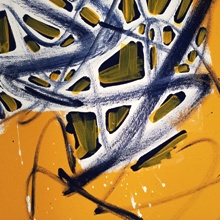 Gianni Asdrubali was born in Tuscania in 1955, where he lives and works.
He is one of the most important abstract artists in Italy and very sought after by collectors and gallery owners.
In the early 1980s he established himself as the protagonist of a pictorial research that creates a reality generated by the tension of the void within its most extreme point, the beginning. His work is made up of contrary solicitations, of contradictory truths that find a new order in the contrasting fusion of opposites. 
In 1985 he joined the "Anniottanta" exhibition at the Municipal Gallery of Modern Art in Bologna; in 1988 he took part in the Sydney Biennial, Venice Biennale and exhibited at the Museum Fridericianum in Kassel; in 2011 he exhibited again at the Venice Biennale.
Since the 1980s, Asdrubali has had numerous solo and group exhibitions in various part of the world such as: Milan, Rome, Venice, Dusseldorf, Cairo, Koln, Munich, Kassel, Sydney, Melbourne, London, St. Petersburg, Florence, Taiwan and Rio de Janeiro.