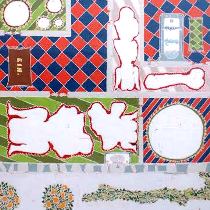 Gianfranco Baruchello was born in Livorno in 1924. He is an artist, writer and poet. After graduating in law, he experimented with the image through the object, constructing the first alphabets of signs that formed the basis of the search for a language that did not renounce the figure, albeit reconsidered within a conceptual process.
Objects made up of books or newspapers assembled and sometimes covered in white enamel were exhibited in 1962 in Paris (Collages et objets) and New York (New Realists).
His first solo exhibition was held in 1963 at the La Tartaruga gallery in Rome.
In 1964, on the occasion of the exhibition at the Cordier & Ekstrom gallery in New York, he exhibited works that already presented a significant point of arrival in his research: fragmentation, dissemination on the canvas of images reduced to minimal elements and conceptual decentralisation of space.
In 1962 he met Marcel Duchamp, to whom he dedicated the book Why Duchamp (1985). In 1968 he founded a fictitious company called Artiflex, which aimed to mimic the ways of industry with a critical purpose. He has participated several times in the Venice Biennale (1976-80, 1988-90, 1993, 2013) and in Documenta in Kassel (1977, 2012).
His retrospectives in Italy and abroad have been important: GNAM, Rome (2011); ZKM, Karlsruhe (2014); Raven Row, London (2017); MART, Rovereto (2018).
His works are in the most important international museums including the Guggenheim Museum and MoMa, New York; GNAM, Rome; Philadelphia Museum of Art; Centre Pompidou, Paris; Deichtorhallen, Hamburg; ZKM, Karlsruhe.