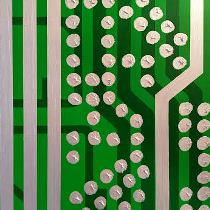 Flavio de Marco was born in Lecce in 1975, studied at the Academy of Fine Arts in Bologna and currently lives and works between Athens and Berlin.
His research deals with an important theme in the history of art, that of landscape: the works are at the same time figurative and abstract, recognisable and encrypted, making the relationship between the individual elements that make up the work not always immediate.
The computer screen is the window chosen by the artist to investigate the contemporary era and becomes the subject of his pictorial research.
The artist emphasises the note of artificiality that envelops the landscape with respect to the concept of nature and considers it as a product of the perceptive consciousness, thinking of it in its aspect of man's creation.
Since 1999 De Marco has had numerous solo exhibitions in Italy and abroad, including: Künstlerhaus Bethanien, Berlin; Frankendael Foundation, Amsterdam; Estorick Collection of Modern Art and Italian Cultural Institute, London; Collezione Maramotti, Reggio Emilia; Museum Frieder Burdan / Salon Berlin, Berlin; Palazzo dei Diamanti, Ferrara.
His works are in important private and public collections.