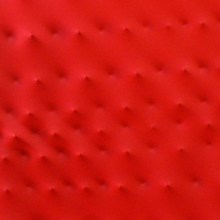 Enrico Castellani was born in Castelmassa in 1930. He studied art, sculpture and architecture in Belgium until 1956, when he graduated from the École Nationale Superieure.
After his first informal experiences inspired by action painting, he developed, with the collaboration of the magazine Azimuth, which he founded together with Manzoni, a new beginning, which proposed the total cancellation of the previous artistic experience, based on a new pact with social progress.
This zeroing is carried out by Manzoni, Castellani and Bonalumi with the use of monochrome canvases, often totally white, everted with various techniques in order to create changing effects of light and shadow with the inclination of the light source.
It is in 1959 that Castellani realizes his first relief surface, giving life to a poetic that will be his constant and rigorous stylistic code, where the carefully chosen repetition of full and empty spaces given by the rhythmic eversions of the canvas constitutes an ever new path, even if coherent and intense.
In 1964 he took part in the Venice Biennale, in 1966 with a solo room and again in 1984 and 2003.
In 1965 he took part in the collective exhibition "The Resonsive Eye" at the MoMA in New York and in the São Paulo Biennial in Brazil. In 1981 he's among the artists in the exhibition "Identité Italien, l'art en Italie dépuis de 1959" at the Centre Pompidou in Paris.
In the following decades he is present in important exhibitions around the world: Milan, Tokyo, Moscow, Venice, Brussels and New York. He died in 2017.