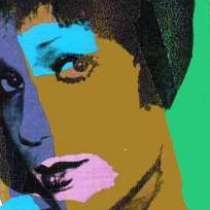 Andy Warhol was born in Pittsburgh in 1928. An emblematic figure of Pop Art, he was a painter, sculptor, photographer, film-maker and band producer, changing the idea of the artist, who for the first time became his own entrepreneur.
Shy and obsessed with being ugly, Warhol was gifted with uncommon communication skills and a great capacity for observation, skills that allowed him to build an image as a star before becoming an artist.
He began working in New York as a graphic designer for magazines such as Vogue, Harper's Bazar and Glamour. It was from the world of advertising that he turned to art, developing an impersonal language aimed at an objective recording of reality.
To this end, as well as to start a serial production of his works (seriality is one of the hallmarks of Andy Warhol's art), the American artist used industrial production techniques such as screen-printing on canvas (an artistic printing technique that uses a textile, steel or nylon support as a matrix).
Warhol is also known for creating the Factory, a place where emerging artists and the superstars of the period converged, which also became famous for its avant-garde parties. Behind this star, however, lay a much more shy and elusive personality.
On the one hand the artist, who wears a mask to keep his distance from the world, on the other the man and his weaknesses. He died in New York in 1987.
His works can be found in museums all over the world and, together with Picasso, he is probably the most important artist of the 20th century.